Drama curriculum 2021-2022
INTENT STATEMENT
Fortismere Drama is dedicated to nurturing imagination and creativity within our students. We are an outstanding, high-achieving, creative and forward thinking department. Our varied provision spans beyond the curriculum, celebrating Drama, Theatre and the arts in all aspects of school life.
We are not bound by the constrictions of the National Curriculum; our curriculum is fluid and adaptable to meet the ever-changing needs of our young people. Students are provided with a rich and dynamic extra-curricular Drama provision often beyond the confines of the school site. Each term students are taught topics that cover Theatre styles (including theatre history), Play texts, Issue based Drama (sometimes including specific texts and stimuli and Theatre Practitioners. Each scheme has a knowledge and skill focus. The focus is on providing contemporary, industry-standard opportunities enriching the cultural capital of our students, staff and wider community. Students can take part in workshops, specialist training, cultural visits and practitioner-led seminars on a regular basis. We celebrate diversity through our Drama provision and seek to narrow-the-gap and raise attainment of those with additional needs. All opportunities are inclusive and specialist provision is accommodated for where necessary.
Our students are creative, innovative thinkers and are encouraged to apply this skill across the curriculum. Innovation is at the heart of what we do in Drama; we believe our students deserve the right to ignite and nurture their talent, confidence and Arts awareness.
We belief that Drama can improve social tolerance, create positive social change, foster emotional intelligence. The narrative of performances can bring to life the most dramatic yet distressing issues that humans experience. By studying these topics in a safe environment, students can access unfamiliar emotions, even more effectively than when reading stories. The study of Drama ultimately leads to documented improved academic performance for all of our students in every other subject (Jægar, M. M., & Møllegarrd, S. 2017). Co-operative learning practices underpin all we do within the Drama department; we believe that the self-awareness, confidence and analytical approach these practices foster, impacts across the curriculum and students' lives.
We provide innovative, engaging and challenging programmes of study for all students, across a range of abilities, at every Key Stage. We assess the students within a variety of different ways; both practically and theoretically. We track their progress all the way through the key stages using a dialogic feedback system and embedded assessment objectives that remain throughout the different stages. We have committed, highly trained staff, many of whom are still engaged professionally within their discipline. Our staff are actively engaged with the Arts and are committed to offering our students up-to-date experiences which reflect UK and Global Arts development. We are developing innovative cultural leaders of the future.
We have embedded the principles of personalised learning taxonomies (Bloom's) throughout the curriculum, focusing on pupils' specific needs. We encourage autonomy throughout Drama, encouraging students to be proactive, responsible and creative leaders.
Knowledge – We ensure our students are engaging with Drama praxis based on strong contemporary and historical understanding. Our students are academically challenged through Arts theory and practice.
Comprehension – Our practice embodies co-operative learning strategies allowing students to share with their peers regularly to ensure comprehension of task and topic
Application – Every element of our Drama curriculum celebrates praxis; applying theory, practice and creativity in order to bring about development.
Analysis – We encourage students to analyse their own, peer and practitioner practice and theory at every stage across KS3, 4 & 5.
Synthesis – We challenge our students through encouraging and making synthesis accessible through application of skills in public and private forums.
Evaluation – All students are expected to evaluate their and others work through the use of 'What Went Well' and 'Even Better If' at KS3. At KS4 and 5 students evaluate through verbal and written forms both informally and formally throughout their chosen courses.
Students' life aspirations are raised through confidence in their ability, specialist support and access to London's cultural offering. We believe that all students should be able to access, engage and create within a safe and exceptional Drama curriculum.
Drama Learning Journey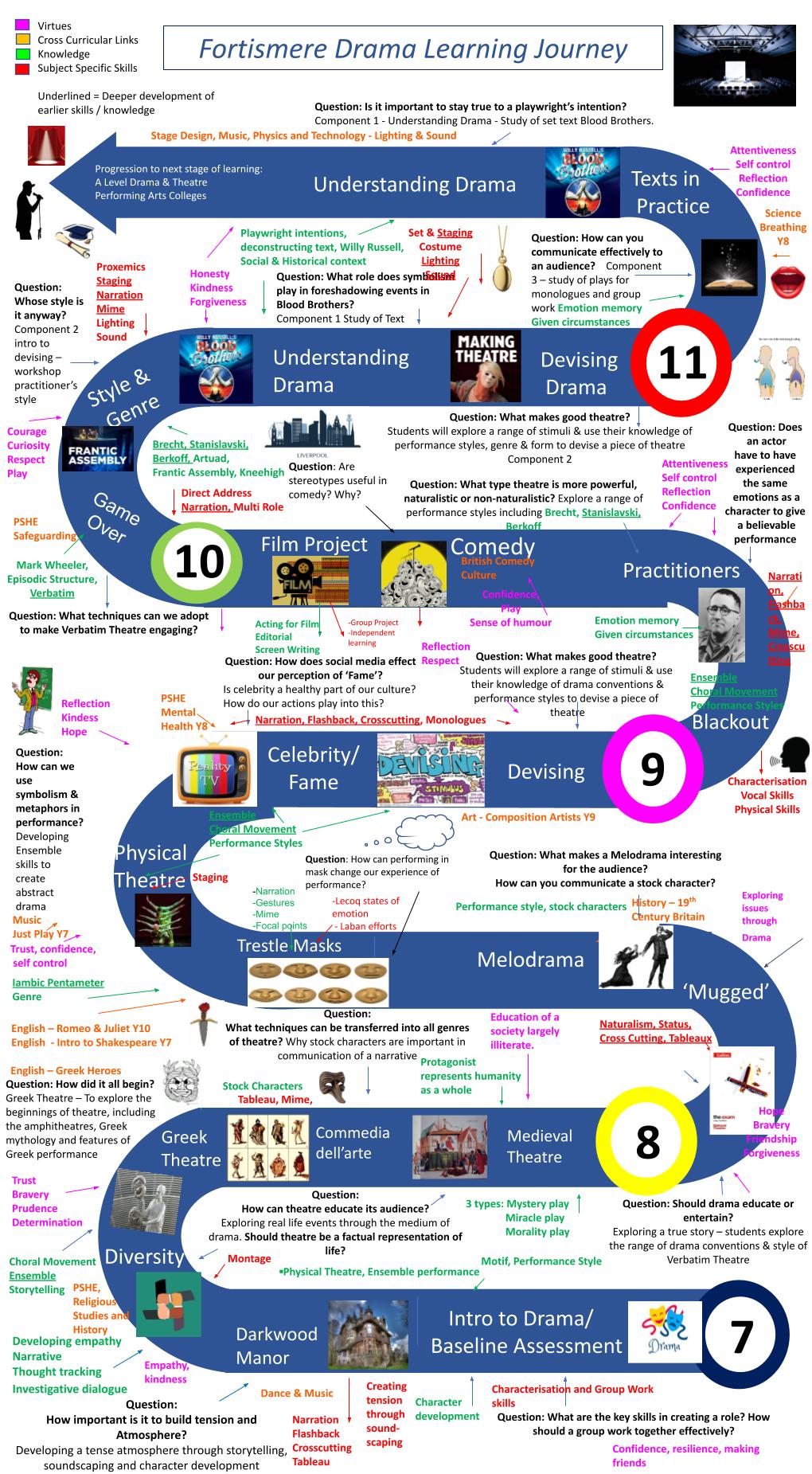 KS3 CURRICULUM
KS4 CURRICULUM
KS5 CURRICULUM
EXTRA CURRICULAR
Contact the Drama Department
| | | |
| --- | --- | --- |
| Ms L Overs | Head of Drama | lovers@fortismere.org.uk |
| Ms J Stevenson | Teacher of Drama | jstevenson@fortismere.org.uk |
| Ms D Turner | Teacher of Drama | dturner@fortismere.org.uk |