covid-19 school updates
LATERAL FLOW TESTING
This section is to help give you more information about the testing programme which will be in place from the 8 March.
We will be carrying out three tests with the students (once consent has been given). After the three tests in school have taken place students will test at home twice weekly. Testing kits will be distributed by the school.
Up to one third of people who have coronavirus are asymptomatic. By testing we will help to reduce the spread in school through asymptomatic transmission. We are therefore strongly encouraging those returning to Fortismere to be tested.
How the tests work
Those taking the test will be supervised by trained staff and volunteers. The lateral flow tests are quick and easy to undertake, using a swab of the nose and throat. Results take around half an hour from testing. The school will inform the student and parent/ carers of a positive test result. You will also receive a text/email notification of a positive or negative result from the online NHS system.
What if my child tests positive?
If a student tests positive on a lateral flow device, they will need to self-isolate for 10 days and follow the guidance from NHS Test and Trace.
What happens if the test is negative?
While a small number of students may need to repeat the test if the first test was invalid or void for some reason, students who test negative will be able to stay in school and resume their activities as normal. Students will be informed of negative test results via text/email. Where participants are under 16, parents or legal guardians will also be informed.
What if staff or students have been in close contact with someone in school who tests positive?
The staff member or student will be notified that they are a close contact by the school and will need to self-isolate for 10 days in line with Government guidance.
What if my child develops symptoms?
This testing programme at school is for people with no symptoms. If your child develops symptoms at any time (including a high temperature; a new, continuous cough; or a loss or change to their sense of smell or taste) they must immediately self-isolate and book a test by calling 119 or visiting https://www.gov.uk/get-coronavirus-test.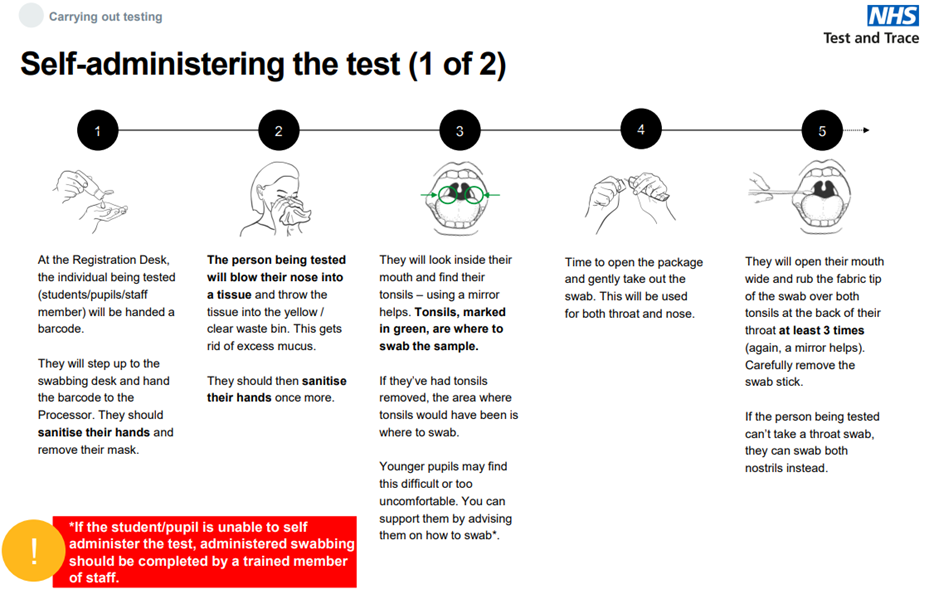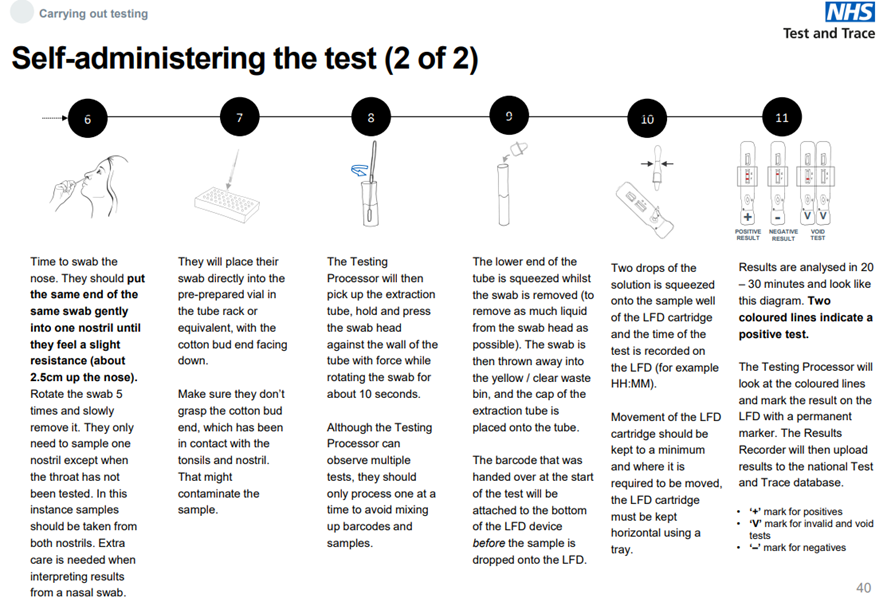 ORGANISATION OF THE SCHOOL
The school has the fortune to have three clear and separate sites in our grounds which have enabled us to ensure COVID secure teaching and learning can take place. Each key stage has a zone in which the students can attend lessons, enjoy break and lunch times and interact with teachers and other students.
It is important that students respect each zone boundary to ensure that the school can stay COVID secure and ensure all students and staff remain safe.
The wearing of masks is required by all students as they move around the corridors and the school. Parents/carers and students, please check on a daily basis that each student has a mask to wear to school. We do have some disposable masks for sale in our school offices for those students who forget their mask. Parents/carers should ensure that if a student does not have a mask, that they do have the means to buy a disposable mask from one of the offices.
FORTISMERE COVID-19 RISK ASSESSMENT
Fortismere COVID-19 Risk Assessment available from the school on request.
FORTISMERE SCHOOL COVID PROCEDURES FOR PARENTS/CARERS AND STUDENTS.
Covid-19 Update: FAQs
1. In what circumstances can I expect my child to be set work remotely?
Your child's teachers will set work if your child has been asked not to attend school either by Fortismere or the NHS. The work will be a mixed diet of work set on Google Classroom and live streaming.
2. What do I do if my child develops symptoms?
Please keep your child at home for 14 days if they have symptoms. It could be a cold or other seasonal illness so check with your GP. You should get your child tested if they have symptoms.
3. What do I do if my child receives a positive test?
Please email the Co-Headteachers immediately.
Please include the following information in your email:
*When your child first developed symptoms.
*The number on the test result.
*The names of any Fortismere students outside of your child's teaching group with whom your child socialises outside of school.
* See more detailed instructions below.
4. If one of my children has been contacted by the school to self- isolate, should I keep their siblings at home?
This is only necessary if your child develops symptoms. If this happens, the family needs to self-isolate for 14 days. If your child does not develop symptoms, they must complete their 14 days and return to school on the date on the letter we will have sent you. No-one else in the family is required to self-isolate.
5. Will the school inform me if there has been a positive case in school?
All parents/carers will be informed on a 'need to know' basis. If your child is not affected by a case, it will be kept confidential and the wider school body will not be informed.
If your child receives a positive test:
In the case of your child/ward receiving a positive COVID-19 test please contact the school as soon as possible by email to co-headteachers@fortismere.org.uk .
Can you please include as much of the information outlined below as possible in the email:
Name
Form group and year
Date of Birth
Contact number
Address
First day of symptoms
Test Date and Test Reference Number
Test Result Date
The school will be able to ascertain which classes that your child attended, and therefore the students that they were in contact with. However, we would appreciate if you could provide a list of students or staff members that your child was in contact with outside of lessons (ie break, lunch, after school etc).
We would need to know whether they were either:
Direct close contacts: Direct face to face to face contact with a case for any length of time, including being coughed on or talked to. This will also include exposure within 1 metre for 1 minute or longer.
Proximity contacts: Extended close contact (within 1-2m for more than 15 minutes) with a case.
PUBLIC HEALTH ENGLAND ADVICE FOR SCHOOLS
If there is a confirmed case of COVID 19 reported to the school, it is important that parents are aware that the school will be contacting parents about this on a 'need to know' basis. This will mean that we will get in touch with the parents of students who have been identified as contacts within the school.
Current Public Health advice to schools is aiming to avoid sending home whole year groups of students if there is a single case within a year groups in secondary settings, providing contacts are identified. This is a very pragmatic approach which we welcome; but we would also point out that their clinical teams are available to support schools in fully risk assessing any case that is confirmed. Public Health England have informed us that schools will only tell students to self-isolate once their specialist teams have made their informed decisions on a case to case basis.
We appreciate the anxieties that there are amongst our community about the spread of the virus. We would ask parents to always treat any communication or information received by the school about a positive case with sensitivity and avoid any speculation around cases, particularly involving social media.
FORTISMERE COVID-19 FLOWCHART
FORTISMERE REMOTE LEARNING
Remote Learning
Throughout the year there may well be occasion where some or all of the student body will need to self isolate. The policy below tries to outline what will happen in cases such as these.
Self-Isolating Students
In the case of a child having been asked to self-isolate by the school or NHS the School will do all that it reasonably can to continue to deliver educational services, in line with the planned curriculum. Teachers will upload the content of their lesson to the google classroom/drive as soon as possible making clear the date of the lesson to enable clarity for the student working from home. Where possible/practicable and where the school resources allow we will aim to 'stream' some of the lessons using audio and screen share capabilities through GMeet or Zoom.
Whole Classes Self-Isolating
In the case of a whole class or year group having been asked to self-isolate by the school or NHS The School will do all that it reasonably can to continue to deliver educational services, in line with the planned curriculum. Teachers will teach their whole class virtually form the school, always setting the work via Google Classroom. These lessons could take the form of:
a live/audio lesson using GMeet or Zoom
a pre-recorded lesson using Screencastify, Loom etc
an Interactive lesson with work set on Google Classroom.
A combination of the above
Teachers should always be available online to answer questions to ensure that curriculum is being covered.
Pupils that are self-isolating must:
Be available during the hours of the normal school day (08:35- 15:20) to complete work set on Google Classroom. Teachers will be available during their assigned lesson times.
Submit completed work by the deadline set by the class teacher.
Work on their subjects at the times specified on their timetable.
Self-Isolating Teachers
If a teacher is well but self-isolating they will work from home and teach remotely. This will be in the form of work set for qualified supply teachers to deliver or could take the format of a live GMeet, Zoom, or interactive lesson using Screencastify, Loom etc. Teachers will be available online to answer questions to ensure that curriculum is being covered. A member of staff will be in the room to ensure that the work is covered by those students present.
Marking and feedback
Teachers will:
Acknowledge work posted each lesson
Where possible question, check or assess for understanding each lesson.
Feedback on common issues relevant to the whole class
Feedback individually a minimum of once every 3 lessons.
Safeguarding
The safeguarding of both pupils and staff must be maintained in remote spaces. All the same policies, rules and guidelines remain in place.
Behaviour and conduct
All pupils are expected to conduct themselves online and on Google Classroom spaces in the same way that they are expected to do in school. The School's relevant policies e.g. Behaviour, Staff Code of Conduct etc. will remain in force.
Remote Teaching and Learning: Software and Policy

The main vehicle for delivering remote learning will be Google Classroom. This enables staff to set lessons online as each timetabled class is now a 'Classroom' with the relevant member of staff allocated to it. Pupils have been using this software for a number of years now and should therefore be familiar with the software (we have uploaded 'how to use' guidance onto the school website for parents). Students should access the work when lessons would take place. The work set will be in line with that delivered during normal school days/weeks/terms. This means that lessons will stop during the published school holidays. All lessons via GMeet or Zoom will have their links posted to the Google Classroom.
Information on using Google Classroom can be found here
Parental Support

Remote teaching obviously requires a different form of support from our parent body and we will very much appreciate whatever support you can give us. There are some clear details noted in the policy about the space needed and behaviour expectations but we will obviously need your support in managing behaviour remotely and in motivating pupils. Please email staff as you would do now if you have specific concerns and we will contact you via email.
In order to support their child, parents should:
Make themselves aware of their child's Google classroom environment and lesson timetable.
Ensure that students logon at the correct time and follow their timetable
As far as possible ensure access to a computer/smart device or network
As far as possible provide a quiet and formal place for students to work
Contact teachers or helpdesk@fortismere.org.uk if you or your child have issues accessing the work
COVID -19 RECOVERY CURRICULUM
COVID CATCH-UP PREMIUM & 16-19 CATCHUP FUNDING
Covid Catch-up Premium
Children and young people across the country have experienced unprecedented disruption to their education as a result of coronavirus (COVID-19). Those from the most vulnerable and disadvantaged backgrounds will be among those hardest hit. The aggregate impact of lost time in education will be substantial, and the scale of our response must match the scale of the challenge.
Schools' allocations will be calculated on a per pupil basis, providing each mainstream school with a total of £80 for each pupil in year's reception through to 11.
As the catch-up premium has been designed to mitigate the effects of the unique disruption caused by coronavirus (COVID-19), the grant will only be available for the 2020 to 2021 academic year. It will not be added to schools' baselines in calculating future years' funding allocations.
Click Here for the spending plan and breakdown
16 - 19 Catchup Funding 2022
Fortismere School will use the allocated government funding to support sixth form students whose education and progress has been adversely impacted by Covid-19. Specifically the funding will enable these students to receive targeted tuition in A Level and BTEC subjects so that they are able to make up lost ground on lessons and content missed during both lockdowns and subsequent time out of education due to periods of illness or self isolation.