Geography
Why Study Geography?
This course will challenge your views of the world and encourage you to explore key local and global issues. It encourages you to research and ask searching questions. Fieldwork, including both the collection and analysing of primary and secondary data, plays a key role in the course. Not only will you develop your geographical knowledge, understanding and skills but you will develop transferable skills (team work, research, presentation, ability to see many sides of an argument; to name but a few). These will be useful for any further study and the world of work.
What will I study?
We follow the Edexcel A Level Geography specification. This is a two year, linear course. With all your exams at the end of the course. You may choose to have a look at Edexcel's website which has a lot of information about the Geography course, some past and sample papers and lots of extra resources, particularly to help with exam technique.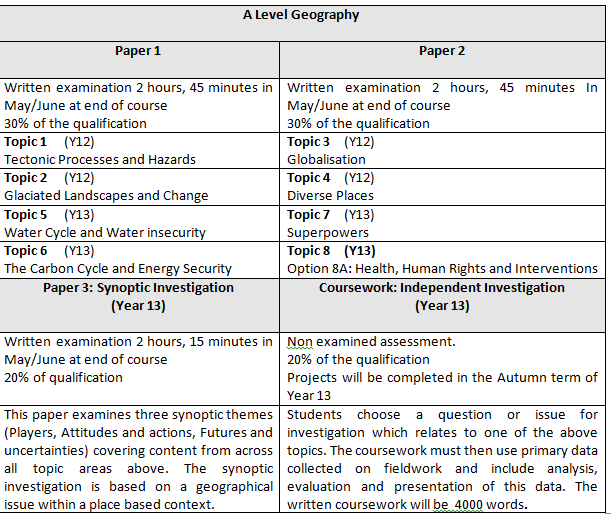 Overview of Year 12 topics
Globalisation: This includes the study of Globalisation and global interdependence and how they continue to accelerate, resulting in changing opportunities for businesses and people. We also look at the inequalities and tensions caused between countries as shifts in patterns of wealth occur. There are also cultural impacts on the identity of communities and pressures on environments from globalisation.
Tectonic Processes and Hazards: Tectonic hazards – earthquakes, volcanic eruptions and secondary hazards such as tsunamis – represent a significant risk in some parts of the world. We study the why resilience in some places can be low and the interaction of physical systems with vulnerable populations can result in major disasters. An understanding of the causes of hazards is key to understanding management and responses that can mitigate social and economic impacts.
Diverse Places: Local places vary both demographically and culturally with change driven by local, national and global processes. These processes include movements of people, capital, information and resources, all of which this topic includes. This makes some places more demographically and culturally heterogeneous while other places appear to be less dynamic. This topic also looks at the impacts of the social inequalities that these changes cause and how these might be managed. Students will include one in depth study of one local and a contrasting place.
Glaciated Landscapes and Change Overview: We will study how ice sheets and glaciers operate within a landscape system as glacial processes of erosion, transport and deposition combine with meteorological and climatological processes. These processes interact with geological processes to produce distinctive landscapes which are being changed by both physical processes and human activities. We will include study of examples of landscapes from areas inside and outside of the UK.
How will I study?
Through seminars, discussions, presentations and individual work. Research will be carried out using books, periodicals & ICT. You will attend student conferences and carry out data collection and analysis through fieldwork. Fieldwork is usually a combination of a residential fieldwork period (in the past this has been I the Pembrokeshire, Wales and Cumbria in the Lake District) and day trips in local urban areas, such as within London.
You will have access to the core textbooks in hardcopy and online as well as a large range of other resources provided for class work and homework.