Exam Results
GCSE & BTEC 2023
Students at Fortismere have once again impressed and delighted us with their GCSE and BTec results. In keeping with last week's A level results, our students have excelled themselves in their achievements. 43% of grades achieved were 7 or above and we achieved our highest ever Attainment 8 score of 60.3.
It has been an unbelievable year for GCSE and BTEC results at Fortismere. Echoing last year's GCSE results, we are once more bucking the national trend for outcomes with higher grades achieved exceeding those achieved in 2019 (pre-covid era) and our Attainment 8 score even topping last year's results. 90% of students received a grade 4 or above in Maths, with an impressive 78% gaining a 'good pass' (grade 5) or above. English also achieved remarkable results, with 94% gaining a grade 4 or above and 86% achieving a grade 5 or above in English. These results are particularly impressive in a fully inclusive comprehensive school. These outcomes will ensure our students can pursue their post-16 ambitions, the vast majority of whom will be staying with us to study at our successful and exciting Sixth Form
Such outcomes, as always, are achieved due to the dedication and hard work of our students ably supported by their teachers. Our students have shown such grit, resilience and determination during two exceptionally challenging years and we are very much looking forward to seeing what they will achieve when they are back in school engaging with their learning in September.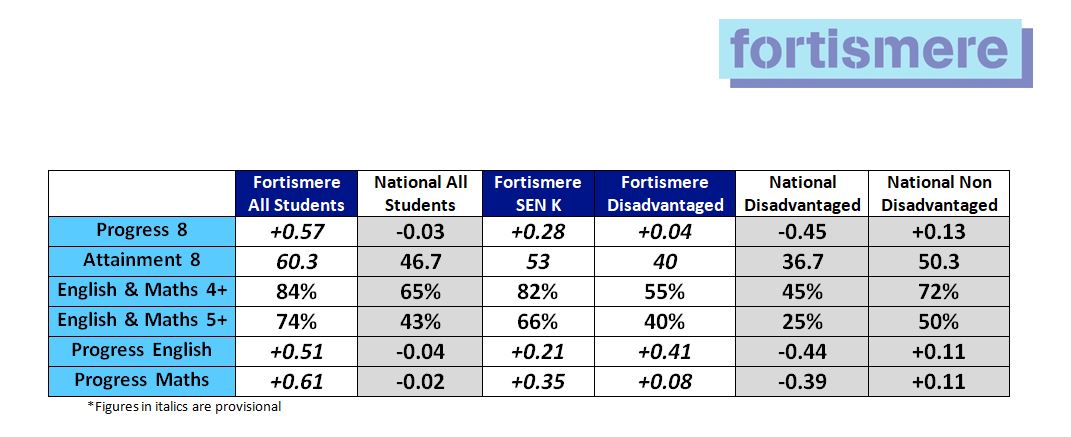 ---
A Level & BTEC 2023
Fortismere is celebrating its outcomes for students at A level and BTEC this year.
This year A level grade boundaries have returned to their pre-Covid standards with no 'soft landing' for students. Despite this, our students have once again proved themselves to be resilient, determined and hardworking and this is reflected in their results. The cohort of 2023 has not sat public examinations since Year 6 but rose to the challenge and we are immensely proud of their attitude towards their Sixth Form studies.
Their results reflect both the hard work of our students and our staff who worked together to ensure these successful outcomes.
The fantastic results achieved by our students will enable them to realise their ambitions and embark on the next stages of their lives, be that further study or the world of work. Fortismere students have once again demonstrated they are committed, aspirational and ambitious and we are delighted that they will be moving on now with qualifications that are reflective of their hard work. We are very proud of them all and we wish them well in their future endeavours.
| | |
| --- | --- |
| Student Outcomes | 2022/23 (%) |
| Students receiving 3 A*-A | 38 |
| Students receiving 3 A*-B | 64 |
| Students receiving 3 A*-C | 85 |
| Overall average grade | B |
| ALPS Progress Score | 3 - Top 25% nationally |