Drama curriculum
INTENT STATEMENT
Enabling Creative Innovation:
Fortismere Drama is dedicated to nurturing imagination and creativity within our students. Our varied provision spans beyond the curriculum, celebrating Drama, Theatre and the arts in all aspects of school life. We are developing innovative cultural global leaders and critical thinkers of the future.
The study of Drama can improve social tolerance, create positive social change, foster emotional intelligence. In creating a safe environment within the classroom, Students are able to explore even the most sensitive or distressing issues with more impact and access to the hinterland of unfamiliar emotions, even more effectively than when reading stories. The study of Drama ultimately leads to documented improved academic performance for all of our students in every other subject (Jægar, M. M., & Møllegarrd, S. 2017). Co-operative learning practices underpin all we do within the Drama department; we believe that the self-awareness, confidence and analytical approach these practices foster, impacts across the curriculum and students' lives.
Innovation is at the heart of what we do in Drama; we believe our students deserve the right to ignite and nurture their talent, confidence and Arts awareness. We are not bound by the constrictions of the National Curriculum as a discrete subject; our curriculum is fluid and adaptable to meet the ever-changing needs of our young people. We focus on both knowledge and skills and our spiral approach means students continuously build on previous knowledge. Themes run through our key stages and you can map the developments below.
Students are provided with a rich and dynamic extra-curricular Drama provision often beyond the confines of the school site. The focus is on providing contemporary, industry-standard opportunities enriching the cultural capital of our students, staff and wider community. We have committed, highly trained staff, many of whom are still engaged professionally within their discipline. Our staff are actively engaged with the Arts and are committed to offering our students up-to-date experiences which reflect UK and Global Arts development. Students can take part in workshops, specialist training, cultural visits and practitioner-led seminars on a regular basis. All opportunities are inclusive and specialist provision is accommodated for where necessary. Students' life aspirations are raised through confidence in their ability, specialist support and access to London's cultural offering.
We celebrate diversity through our Drama provision and seek to close gap and raise attainment of the school's priority groups. We believe that all students should be able to access, engage and create within a safe and exceptional Drama curriculum and we encourage autonomy throughout Drama, encouraging students to be proactive and responsible. We hope they begin to grow into fearless, kind, supportive and independent human beings.
Drama Learning Journey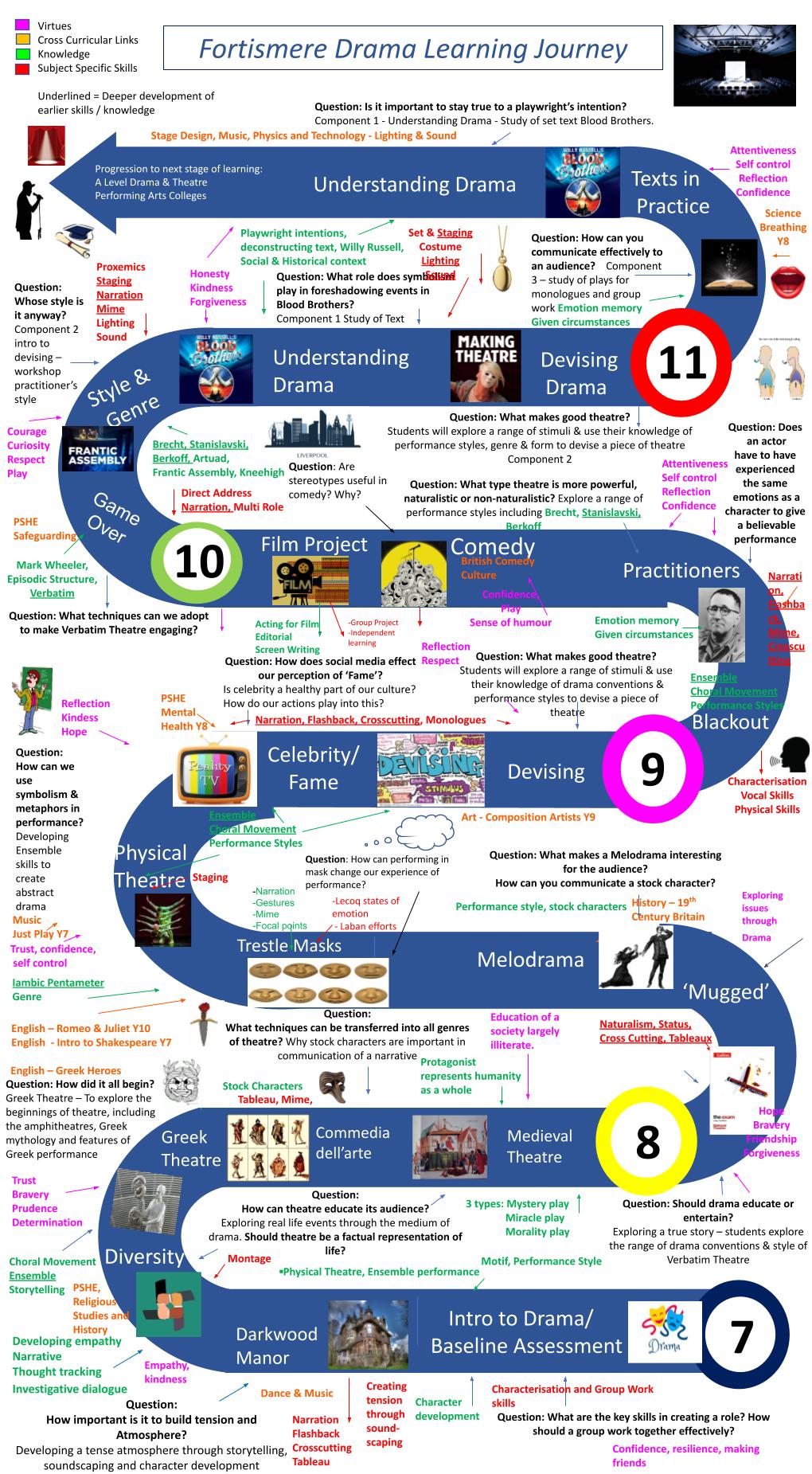 KS3 CURRICULUM
KS4 CURRICULUM
KS5 CURRICULUM
EXTRA CURRICULAR
Contact the Drama Department
| | | |
| --- | --- | --- |
| Ms L Overs | Head of Drama | lovers@fortismere.org.uk |
| Ms J Stevenson | Teacher of Drama | jstevenson@fortismere.org.uk |
| Ms D Turner | Teacher of Drama | dturner@fortismere.org.uk |