Year 9s Learn About Historical Fiction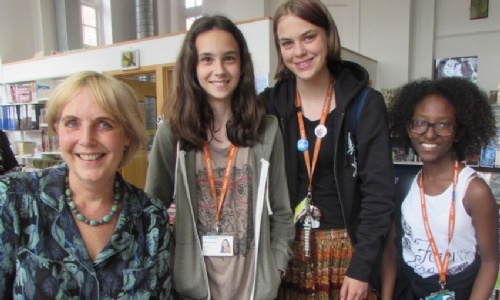 Author, Sarah Matthias, encourages Year 9s to use good fiction as a way of learning more about historical periods.
On Monday 26th June we were delighted to welcome author Sarah Matthias to the library. Sarah's books have been about medieval history, but A Berlin Love Song is set against the backdrop of World War II. Our year 9 historians are currently studying the Holocaust, so Sarah spoke to three classes (and a Year 8 class who happened to be in the library!) about the extensive research she did, especially into what Angela Merkel has called the Forgotten Holocaust – the wartime persecution of the Romani people. Although her book is a work of fiction, our Year 9s discovered that there are different ways to immerse yourself into an historical period – and reading well-researched stories is one of them. A fascinating and moving afternoon; we all learned a lot.