Nicci Cloke at Muswell Hill Library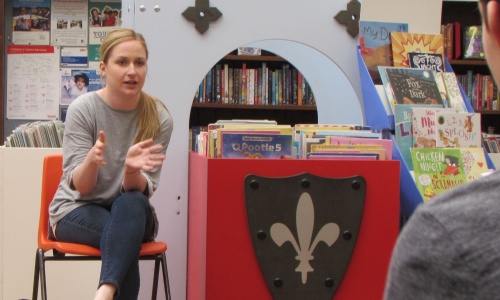 Author Nicci Cloke engages Year 9s at Muswell Hill Library.
We took a Year 9 class to Muswell Hill library on Monday 12th June to meet author Nicci Cloke. Nicci is the author of adult fiction, but she has also written two excellent (recommended) books for young adults called Follow Me Back and Close Your Eyes. We tend to find that Year 9s would rather do anything than participate in front of each other (far too cool for that!) but Nicci got them working on different scenarios that got them thinking about social media and its advantages/dangers. Some very perceptive ideas and comments ensued. This visit to our local library was the last of our YA Shot visits to Muswell Hill Library (http://yashot.co.uk/ ); we'd like to thank the staff of the library for their generous welcome and lovely space. It has been great introducing (re-introducing) some of our students to this excellent local facility.