Performance Poetry at Muswell Hill Library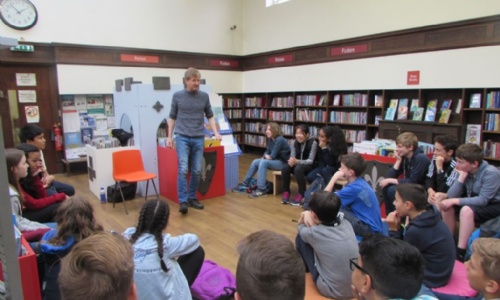 Performance poet and author Steve Tasane delighted a Year 7 class at Muswell Hill Library on Thursday 8th June.
The students were astounded by Steve's clever and speedy raps and the spellbinding poem Tyler's Tears moved them greatly. Their knowledge of Oliver Twist led to some really perceptive questions and answers about Steve's book Nobody Saw No One (which is based on the Dickens story) and the subject matter of Blood Donors – bloodsucking bugs - left them wanting more. They all loved the games Steve used to get them moving, especially the Obedience Game, and goodness knows what the voters in the polling station on the floor below thought when we all joined in with Steve's poem without words (but with much clapping, clicking and stamping of feet).The sign of a good author visit is that the Year 7s wanted to carry on and not leave the library, even though it was home time! This visit to our local library was the second of our YA Shot visits to Muswell Hill Library (http://yashot.co.uk/ ); we'd like to thank the staff of the library for their generous welcome and lovely space.