Making Up Stories in Muswell Hill Library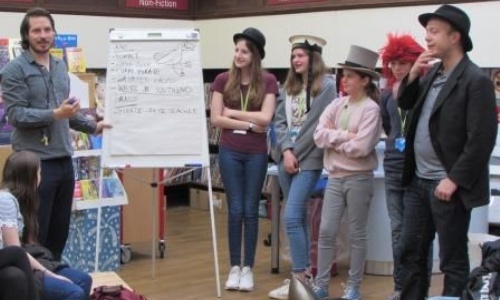 Muswell Hill Library hosted Year 8s recently, where authors Prentice and Weil inspired them to make up their own amazing story!
On Friday 19th May, 8X4 spent a couple of hours at Muswell Hill Library in the company of (Andy) Prentice and (Jonathan) Weil, co-authors of the brilliant Books of Pandemonium. Members of the class donned different headgear and a story was made up around the characters we thought they were. We ended up with a totally bonkers and very imaginative tale about a Liverpudlian transgender alien called Axl, his duck sidekick Steve and an evil villain by the name of Panos. By using Panos' greatest fear, curry, against him Axl was eventually able to achieve his greatest ambition – to own a winecellar. Or something. This hilarious event was part of the first of our YA Shot visits to Muswell Hill Library (http://yashot.co.uk/ ); we'd like to thank the staff of the library for their generous welcome and lovely space.