Engineers of the Future!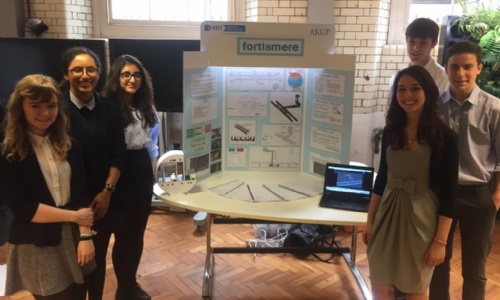 Year 12 students work with ARUP engineers on a unique project to redevelop a disused Tube station.
The Engineering Education Scheme in England & Scotland is an EDT Programme which links teams of four/six Year 12s and their teacher with local companies to work on real scientific, engineering and technological problems. The scheme provides students with an in-depth experience in science, engineering and technology that will enable them to make an informed decision about their future studies and career.
Fortismere entered a team of six Year 12 students: Huda Ahmed, Kelis Rossi, Sasha Andreeva, Connor Napleton, Nat Hodge and Jolene Incontrada. The team spent six months working with three ARUP engineers on a project entitled 'Finding Life in an Old Building'. The project focused on rebuilding Down Street Tube Station (a disused station between Hyde Park Corner and Green Park) into a homeless shelter. They focused on three main areas of Fire Safety, water/heating and ventilation. They also gave consideration to working with outreach groups to help support the continual rehabilitation of a homeless individual.
They produced a stunning report and spoke professionally and with real confidence in front of a panel of experts. The project has given the students some fantastic experience which will be invaluable in their future careers.