Mandarin Competition Winners' Trip to China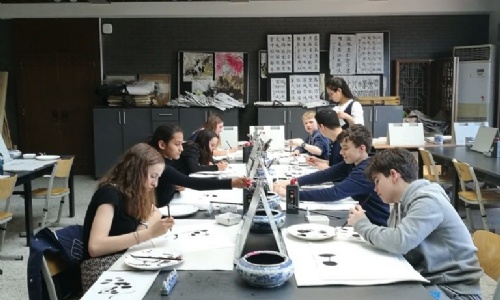 Five winners from the recent HSBC Mandarin Speaking Competition enjoy their prize of a trip to China!
The following five students won the first prize in the HSBC Mandarin Speaking Competition this February with their group performance, 'Judge Bao': Hector Farr, Esme Whelan, Maya Sutton-Patel, Lulu Betteridge and Oryna Goichuk.
They, together with the other three individual winners, were awarded a free trip to China during the Easter holidays. They took part in a wide range of cultural lessons and exchange activities with their buddies in Bei Da Fu Zhong, one of the top secondary schools in China, and toured around Beijing. During the trip, all the students got on with each other very well. They shared their Mandarin learning experience, and played a lot of games in Chinese. On the last day, they were taken to a posh restaurant with HSBC Beijing Team, and visited the British Council headquarters. It was a memorable trip and will certainly promote their motivation for further learning. Most importantly, they all enjoyed this fantastic trip!