Creative Inspiration from Joffre White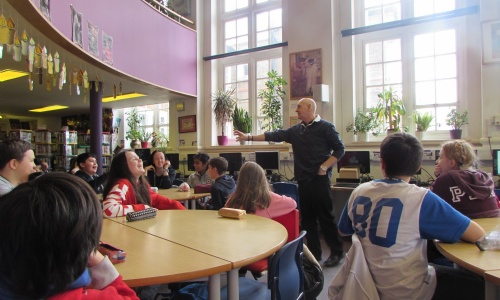 Joffre White is an author and reading motivator and we were delighted to welcome him to Fortismere library on Tuesday 7th March.
He worked with two Year 7 classes on creative writing, getting them to build mind maps around a theme and showing them how an imaginative and readable story can evolve from linking a few words together. One student even produced 171 words on her two mind maps, breaking Joffre's record! They were astounded to discover that, although only aged 11/12, their lives had already produced a myriad of experiences that they could use in their writing (including standing in fresh dog poo with bare feet – there's always one…) Joffre also met two Year 8 classes and gave an inspirational talk on how he hated reading, how his weird and wonderful life gave him a wealth of ideas and how he got to love books. A fairly "excitable" group of over 50 Year 8s settled very quickly once he started talking. In previous lives Joffre was trained by his father to perform in a circus and was also a professional rock musician – so he is a true performer (despite laryngitis) and entertained and inspired our students – lots of laughter in the library that day!