KS5 Spanish Trip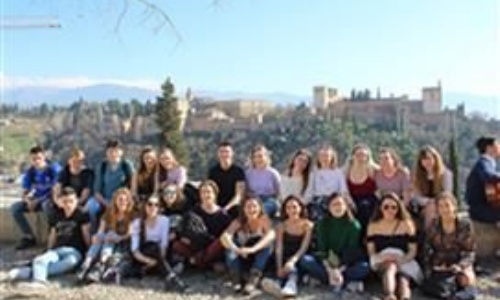 KS5 students enjoy a 5-day trip to Andalucia, immersing themselves in language and culture!
The students benefitted from a wide range of visits to locations such as La Alhambra, El Albaicín, La Catedral de Granada y La Catedral de Sevilla, La Giralda, La Plaza de España y La Plaza de Toros Real Maestranza. These visits are of huge value as they provide a historical and cultural awareness of the subject. In addition to these visits, the students watched a play called La Cervantina, which is an adaptation of some of the main plays by the great Spanish writer Miguel de Cervantes. They also watched a Flamenco Show and had a guided tour with actors to learn more about Federico Garcia Lorca, a famous writer from Granada.
The students showed great enthusiasm through the trip despite the long walking distances and the overdose of information in Spanish. They greatly enjoyed the sunny weather and even experienced 2 rainy days without complaining! They were a credit to the school and made all of us really proud.