Best Ever GCSE Results!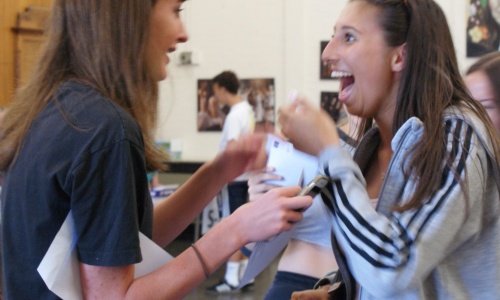 We're delighted to announce that 90% of our students achieved grade A* to C (86% including Maths and English)!
There were happy faces all round today as students came to collect their results. Many of them did better than they'd expected and there was an atmosphere of real joy and excitement about the future. Lots of students will be staying on to do their A-Levels at Fortismere, and others are going on to other local Colleges to study the subjects of their choice. Others still are following different paths and going into the world of work. We are absolutely delighted and so proud of them all. In particular, some of our most vulnerable students have shown great progress and that means so much to us.
Mrs Glass, Headteacher said, "We are delighted that so many of our students have done so well, sometimes exceeding their own expectations. In particular, the fact that the gap in achievement between our Pupil Premium and non-Pupil Premium students has significantly reduced is the real success. Some of our most vulnerable students have benefitted from the support and dedication of our staff and I am proud of them all."