Year 8s impress author, Christine Hamill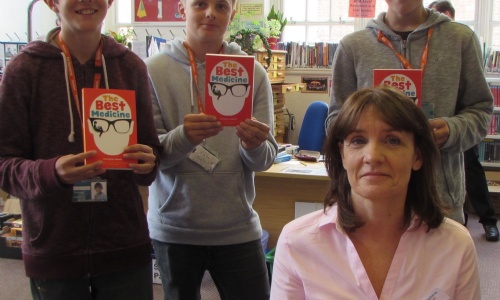 Mutual appreciation: author, Christine Hamill enjoys her first ever school visit, and we love having her!
We were visited on Thursday 15th July by Irish author, Christine Hamill, who talked to some of our Year 8 students about her book The Best Medicine. She told them why she writes and how delighted she was when comedian Harry Hill sent her a lovely handwritten letter endorsing her book and saying how pleased he was that he plays a major part in it! We were Christine's first school visit ever, and she was so impressed that she wrote about us on Facebook. Here's a little of her post: "So let's be honest, London schools have a reputation for being a bit scary, don't deny it! Well, I did two hour-long sessions at a London school last Thursday and I was nervous... But the kids were amazing, polite, well-behaved, funny and asked clever questions that made me think... So thank you, Fortismere. You were great and I am so glad you invited me." And thank you, Christine!