World Book Day: Patron of Reading Visit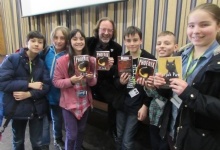 On World Book Day, Thursday 3rd March, our Patron of Reading, SF Said, chatted to Year 7s about what they are reading and how they choose books.
Our Patron of Reading's second bumper session with all Year 7s was on World Book Day, Thursday 3rd March. S F Said chatted with them about what they were reading and how they chose books, and was delighted by their enthusiastic responses. Much of each of the two sessions was spent talking about how to promote and share books (much hilarity at a couple of the vloggers, and some intense discussion about the book trailers) ready for the Year 7 presentations as part of the inter college Reading Champions competition. SF will be recapping this valuable information on his next blog so look out for the link in the Newsletter. We had a wonderfully lively WBD afternoon and are looking forward to our PoR's next Year 7 visit on Thursday 30th June when he will be chairing the judging panel for the Reading Champion Awards Ceremony.