Harry Potter Night at Fortismere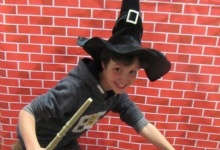 Lots of magical fun was had at our annual Harry Potter night event!
Witches, wizards and muggles – and a golden snitch - apparated in the Library at 5.30pm on Friday 5th February for our annual Harry Potter Night. Leaving their broomsticks at the door, the Sorting Hat put them into houses and then, beneath hundreds of floating candles, they had fun with various HP inspired activities. Cakes were decorated with all manner of frogs' warts, slug slime and unicorn horn shavings (and then eaten very quickly!) The prefects organised a quiz. Professor Norton read excerpts from the books whilst Professors Bhambra and Tibble sorted a splendid supper of pasta and enough garlic bread to keep the DeathEaters at bay. After icecream, the 50 students retired to the Common Room (upstairs in the library) with their blankets and cushions and watched Harry Potter and the Goblet of Fire (their choice). Everyone went home, all pottered out, with an Escaped from Azkaban poster showing their own mugshots.