Inspiration from another successful author!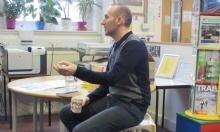 A thought-provoking visit from Mann Booker Prize nominee Stephen Kelman.
Stephen Kelman, whose book Pigeon English was nominated for the Mann Booker Prize in 2011, came to Fortismere Library on Friday 5th February and talked to some of our Year 10 students about how his upbringing on a run-down estate inspired him to write his novel. The book draws on the murder of 10 year old Damilola Taylor in Peckham in 2000, but despite the appalling subject it's still funny and a great depiction of the frightened boys behind gang members' tough facades. Our students' questions were impressive and mature and led to Stephen telling them about how he could write with the voice of an 11 year old Ghanaian boy, how he felt when he found Pigeon English is on the GCSE syllabus and how reading was so important in his youth. A fascinating and thought provoking afternoon.