FORTISMERE SCHOOL ANNOUNCES RECORD SUCCESS with A Level and BTEC RESULTS.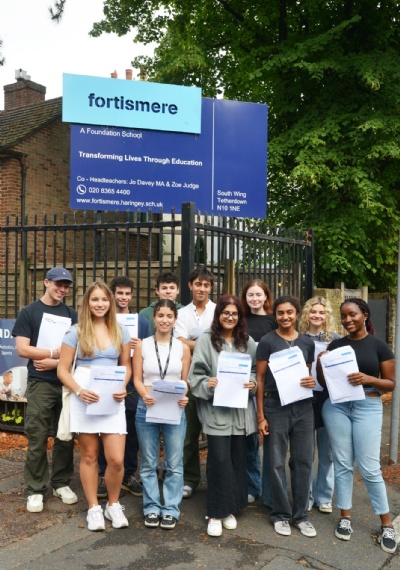 We are celebrating record-breaking outcomes for our students at A level and BTEC this year. Extraordinarily, 1 in 3 students at A level gained at least 3 A grades. Performance at the top ends of the grades are an improvement on both 2019 outcomes and also 2021, bucking national trends at A level this year. With half of the A level grades achieved being at least an A grade, 1 in 5 grades achieved being an A* grade and the average grade achieved a B+, we would like to congratulate our A level students on a truly remarkable set of outcomes. Our BTEC students also posted outstanding results with 80% of grades ranging from D*D*D*/DDD. Overall our students have made 'Excellent' progress according to ALPs measures.
Despite two years of disrupted education and the cancellation of their GCSE exams in 2020, the cohort of 2022 have proved themselves to be resilient, focused and hard working students, more than able to meet the challenges presented by Covid. These results reflect both the hard work of our students and our staff who delivered learning through two turbulent years.
The fantastic results achieved by our students will enable them to realise their ambitions and embark on the next stages of their lives, be that further study or the world of work. Fortismere students have once again demonstrated they are committed, aspirational and ambitious and we are delighted that they will be moving on now with qualifications that are reflective of their hard work. We are very proud of them all and we wish them well in their future endeavours.
Headlines
A* Grades 20% (up from 11% in 2019)

A*/A Grades 50% (up from 42% in 2019)

Performance at top grades exceeds 2020 and 2021 grades bucking national trends for outcomes in 2022

A*/B Grades 72%

Average A Level grade B+

1 in 3 students gained at least 3 A Grades at A level (up from 1 in 5 students in 2019)

1 in 8 students gained at least 3 A* Grades at A level

80% of grades D*D*D*/DDD in BTEC subjects

ALPS 'Excellent' Progress