Hunter Davies talking education, journalism and Beatles!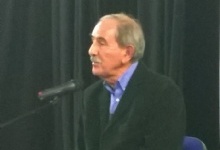 Hunter Davies OBE returned to Fortismere 40 years after writing The Creighton Report about the school, and enthralled an audience of staff past and present, students and parents/carers with stories of his extraordinary life.
Hunter Davies trained as a teacher in the 1960s, and when he left university, he wrote a 'coming of age' novel, Here We Go Round the Mulberry Bush, later turned into a film. He approached Paul McCartney about providing the theme tune for the film, and while they were talking Hunter suggested writing a biography of the Beatles, then at the height of their fame. Paul McCartney put Hunter in touch with the Beatles' manager, Brian Epstein, and the authorised biography, The Beatles, was published in 1968. For 18 months, Hunter had unparalleled access to John, Paul, Ringo and George, and the book was a landmark bestseller, still credited as the classic Beatles book. The world-famous band split up a couple of years later, having defined a generation and changed the face of music….
In 1972, Hunter Davies wrote what is regarded as one of the best ever books about football, The Glory Game, a behind-the-scenes portrait of Tottenham Hotspur. Since then, he has ghost-written a number of autobiographies of footballers, including Wayne Rooney and Paul Gascoigne.
In 1974, the Sunday Times sent him to a comprehensive school to write about modern education. That school was Creighton School, now part of Fortismere. Fascinated by what he found, he stayed on at the school for a year and the resulting book, the Creighton Report, was published in 1976.
Over the past 30 years, he has written everything from children's books, to books about collections, walking and politics.
Some 40 years after first coming to Fortismere, Hunter Davies returned for the first time on Monday 16th November 2015. He gave a talk about his fascinating life to 6th Form students, staff past and present, and parents/carers. A staunch campaigner for comprehensive education, he described how much he enjoyed the year he spent interviewing Creighton students, parents/carers and staff. Apparently, he still has his notebooks from that time, along with those from the 40 other books he has written since - all kept in the loft!
He also gave a fasincating insight to the 18 months he spend researching the Beatles in the late 1960s. He met with their families, with Pete Best (then working in a bread factory, having been dismissed from the band in 1962), and iwth other friends. He also say in Abbey Road Studios as they wrote, developed and recorded Sgt Pepper's Lonely Hearts Club Band, even picking up discarded notes and lyrics which have since been donated to the British Library.
He spoke about his time on Durham University Press Student Newspaper which led to a stint on the Manchester Evening Chronicle with Robert Robinson (later famous for his TV work). The pair then moved to The Sunday Times and Huner has worked for them, on and off, eversince! What came across was how the 1960s were a time of real opportunity and the most incredible things could happen to ordinary people....
Still, few lives have been as fascinating as Hunter Davies', and we were all thrilled to welcome him back to the school. We hope he doesn't leave it long till his next visit!