International Women's Day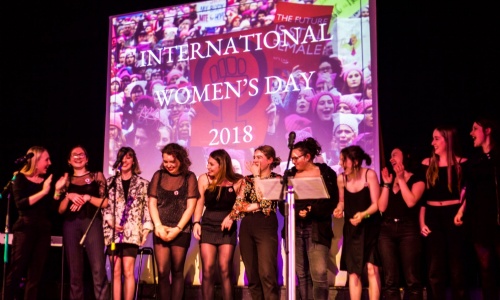 Our talented students and guest speakers provided a thought-provoking, emotional and inspiring event for International Women's Day.
On Wednesday 7th March, we held our International Women's Day event which was spectacular. A group of Year 13, 12 and 11 students, ably led by Kezhe Julian-Temir and supported by Ms Topping, organised an evening packed with poetry, speeches and song. The entire audience were stunned by the talent on display (including the talks from the Co-Heads, who were very flattered to be asked). The presentations had been grouped to give the whole evening coherence; concentrating on the themes of women hidden from history, stories of the struggle against inequality and women and girls challenging silence and finding their voices. The speakers questioned historic thinking and Lola Olufemi (the Women's Officer at Cambridge) and our Patron of Reading, Non Pratt, reminded the audience of the many different identities of women and girls, including transgendered. Many of the parents and carers who were present at the event have since emailed in their enjoyment of, and support for, the event and we will be sharing these comments with the students and staff involved. In addition, the money raised for the charity Womenkind is already in excess of £500, and that is without the profits from the bar included (!).
We received this inspiring message from Womankind afterwards:
"Thank you again on behalf of Womankind for supporting us through your amazing night yesterday. It was a brilliant and inspiring event. This week at Womankind we are standing side by side with Ugandan women fighting for their right to land. With your support we are standing stronger. Sisterhood is powerful, keep it up!"