VEX Robotics Team Success!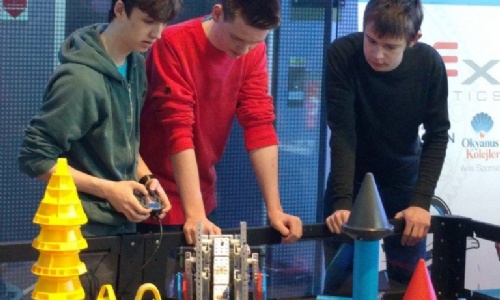 Fortismere Robotics Vex EDR Sixth Form team took up an invitation from the Vex Robotics Partner in Turkey to compete in the Turkish Vex EDR National Championship held in Istanbul on Saturday 24th February.
Having spent a day seeing the wonderful sights Istanbul has to offer such as the Topkapi Palace, the Hagia Sophia, the Sultan Ahmet Mosque, the Grand Bazaar, and Hippodrome, the team of students – Robbie Buxton, Joshua Hudson and Sam Poirier – were pleasantly surprised to find they would be competing in one of Istanbul's newest and prestigious multi-faceted shopping centres. The event was held at the Zorlu Performing Arts Centre where 17 EDR teams were competing alongside 37 Vex IQ teams. The atmosphere throughout the day was inspiring! The event was without doubt the best hosted event the team had ever been to, including a mic controller, music, a huge LED display on stage, a superb field set up and the food and drink for staff and competitors was provided free throughout the whole day.
The team thoroughly enjoyed themselves, exchanging strategy for game play and ideas as well as making new friends from Turkey, Kazakhstan and Malaysia. To top it all the students came away winning the Skills Award, the Design Award and Tournament Champions Award with Cosmos Wonderland, a team representing Bahçeşehir Science School.
Fortismere Robotics both Vex IQ and Vex EDR teams will be competing this Thursday, Friday and Saturday (weather permitting) at the UK National Championships being held at the Telford International Centre.