Patron of Reading: Another Great Day with Non!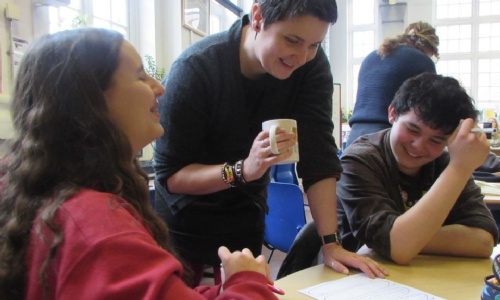 Non talks Hansel and Gretel, identity and the difference between fact and fiction!
On Monday 19th February our Patron of Reading Non Pratt got Year 11s doing the dialogue with Hansel and Gretel and Year 7s getting down and dirty with truth or dare antics! Two workshops in the morning with our older students got them thinking about dialogue and how it affects plot and characterisation. We had great fun writing fairy tale chats between (for example) a rapping Hansel and a bodybuilding Gretel (whose heart's desire was to win the Great British Bake Off). Six Year 7 classes and a Year 8 class joined Non in the hall in the afternoon when she talked about identity, being yourself and the difference between fact and fiction. How we laughed! Non will be one of the speakers at the International Women's Day event taking place on 7th March, so get your tickets and come and meet her.