Patron of Reading, SF Said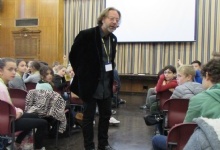 Our new Patron of Reading, acclaimed author, SF Said, meeting Year 7s in September!
On Thursday 24th September our new Patron of Reading, acclaimed author SF Said, met the whole of Year 7 for the first time, and certainly got them buzzing! He spoke about the rejections he received from publishers before finally getting award winning Varjak Paw printed, and the students shared their own stories of perseverance. SF asked for book recommendations too, and was amazed (see his comments on Twitter!) by the incredibly mature reading habits of our students. He will be working with these students over the next couple of years, and this year will launch an inter-college Reading Champion competition where students will promote their favourite books, leading to an evening in the summer term when the six colleges will fight to get their book acknowledged as Fortismere's Favourite! We are really looking forward to SF returning in November to spend some time with Year 8 students when he will start a year of creative writing with them. Please look at this book trailer of SF's latest novel, Phoenix https://www.youtube.com/watch?v=p5yQjwqDFXA&safe=active .