STEM Project Success!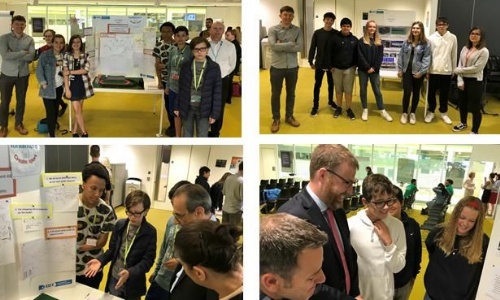 Fortismere entered two teams for this year's Go4SET Project and the Year 8 team won the 'Best Overall Project' Award! They were ably assisted by their mentors from Symmetry in Crouch End.
Go4SET is a 10-week Science, Technology, Engineering and Maths project for 12-14 year olds. Our Year 8 team consisted of Nathan Yaol, Eva Djurasinovic, Louis Millar, Eva Napleton, Manus McKay-Dalton and Abigail Dennor below left. From Year 9, Kate Amos, Isabella Dodd, Nisha Gwynne-Smith, Ellis Peek, Eusebi Vickers and Manu Goswami took part.
Our Year 8 team won the 'Best Overall Project' award! Both teams were mentored by two Engineers from Symmetry's in Crouch End: David Snaith and Craig Morgan. Both offered their expertise and support for twelve after-school sessions every Monday from 3.30pm – 5pm. This is the second time the company have mentored Fortismere students. Last year Bilal El-Shaweesh and Camille Corvec guided our Year 8 team throughout the twelve weeks. The Year 8 support teacher was Mr Richardson who like the Engineers gave up his own time to support the project!
All who participated should be very proud of what they have achieved and learnt throughout the twelve week experience. Well done Year 8!