On this page you will find the following information:
Safeguarding is the action that is taken to promote the welfare of children and protect them from harm. Safeguarding means:
protecting children from abuse and maltreatment
preventing harm to children's health or development
ensuring children grow up with the provision of safe and effective care.
What does Safeguarding cover?
Safeguarding covers numerous topics, many of which are interconnected, including:
Bullying
Child Exploitation
Domestic and Sexual violence/abuse
Mental health and wellbeing
Self-harm
Neglect
Prevent (Preventing Violent Extremism)
Substance Misuse
Violence Against Women and Girls (including FGM)
E-Safety
Who is responsible for Safeguarding?
Everyone has a responsibility to keep children and young people safe.
All organisations that come into contact with children should have specific safeguarding policies and procedures in place. This includes voluntary and community organisations, faith groups, private sector providers, as well as schools, hospitals and sports clubs.
Safeguarding at Fortismere
Fortismere takes its safeguarding responsibilities extremely seriously. Our current policy, which you can download here or from our main Policies page outlines our processes and procedures.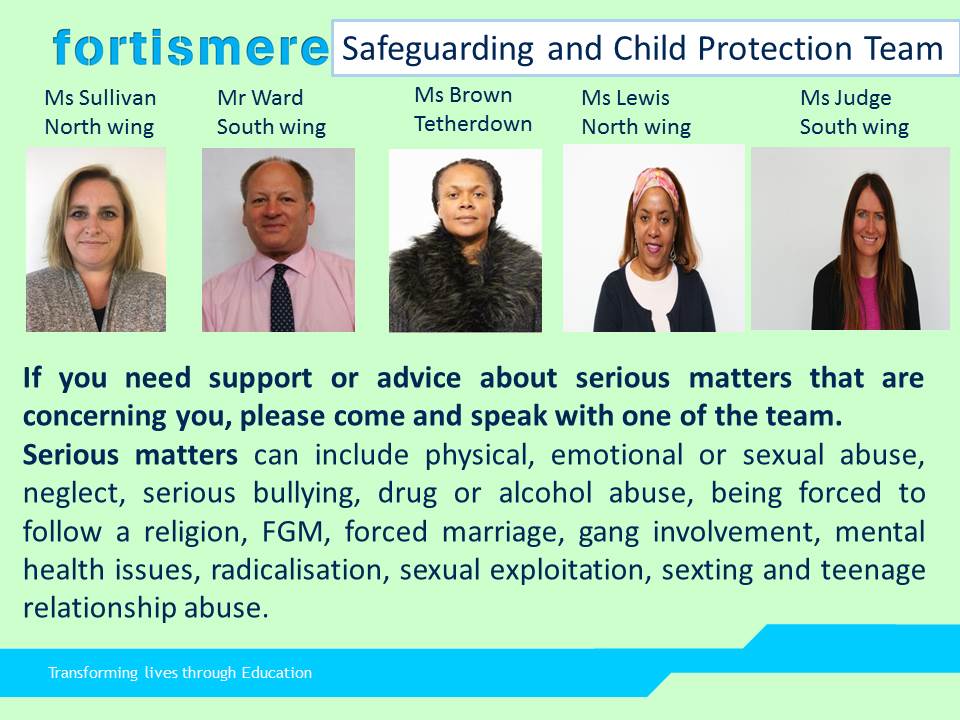 On this page we have assembled some information that may be of help. At the bottom of this page you will find updating information from Parent Zone and CEOP (Child Exploitation and Online Protection Centre) on a wide range of issues. We also have a page on E-Safety and staying safe online which is useful for both parents/carers and students.
You can view a presentation about Safeguarding given to students by Ms Sullivan during College Assemblies here.
As a response to recent media coverage around rises in incidents of self-harm we wanted to recommend to our parents some useful websites on this specific issue. We think that 'Mind' and 'selfharmuk' provide really useful information:
There are also some useful articles in the RSS Feed below - simply scroll through and click on the relevant topics (particularly in the Health & Wellbeing section from page 3).
Presentation from Richard Moore
On 15th May 2017, Richard Moore from the Charlie Waller Memorial Trust gave an informative presentation to a large audience of parents/carers on the topic of student mental health. The slides from his presentation can be found here.
More information about Richard and his experience can be found on his website: www.dickmoore.org
Wellbeing Evening for Parents/Carers: Communicating with Teens
On 6th June 2017, we held an event for parents/carers hosted by Alison Havey and Deana Puccio, writers of the book 'Sex, Likes & Social Media: Talking To Our Teens In The Digital Age'. They have provided an information sheet which signposts to other resources which you may find useful.
The school provides a range of information on this topic, starting with the Raising Awareness and Prevention project workshops for Year 10s. The RAP workshops have been carefully designed to equip teenage girls and boys between the ages of 13-18 with the tools to avoid becoming a victim of rape and sexual assault. These presentations are not about physical self-defence, sex and relationship education nor about intimidating teenagers but are about empowering them with the common sense skills to be able take care of themselves and each other. The RAP Project focuses on real life cases, laws, statistics and guidelines. Consent, online pornography and social media are also addressed.
Click here for more information.
As part of our Sexual Relationships Education programme, we work with Safer London who have produced this leaflet highlighting issues around Child Sexual Exploitation.
The following link supports students in understanding the issue of consent:
http://www.consentiseverything.com/
These organisations offer further information and advice:
Rape Crisis: https://rapecrisis.org.uk/
Citizens Advice: https://www.citizensadvice.org.uk/family/gender-violence/rape-and-sexual-assault/
NHS: https://www.nhs.uk/livewell/sexualhealth/pages/sexualassault.aspx
Recent guidance for schools from the DFE: https://www.gov.uk/government/uploads/system/uploads/attachment_data/file/667862/Sexual_Harassment_and_Sexual_Violence_-_Advice.pdf
We have all seen articles in the media about the risk to young people of radicalisation, extremism and how, in rare cases, that can lead to involvement in terrorism. We work closely with a range of agencies to keep abreast of the latest information and guidance on this complex issue. You may find these websites useful if you have any concerns or questions:
http://www.preventtragedies.co.uk/
http://educateagainsthate.com/
Haringey's Leaflet on Radicalisation and Extremism
Government Advice for Schools Carrying Out their Prevent Duty
Home Office Briefing on how Social Media is used to Encourage Travel to Iraq and Syria
Here are some general documents that you may find helpful:
DfE Guidance on Keeping Children Safe in Education
Government Guidance for Professionals on What To Do if You're Worried a Child is being Abused
Government Guidance on Working Together to Safeguard Children
Young People's Version of Government Guidance on Working Together to Safeguard Children
This is a link to a wide range of articles on various topics for parents/carers and students. Simply scroll down and click on any of the articles that interest you. The list is always being updated by Parent Zone and CEOP.