Choosing Options
In Key Stage 4 students study up to 10 GCSEs, depending on their ability. The varied options system allows for the study of three separate sciences, as well as two languages and a range of courses, including vocational options. We have produced lots of information to help parents/carers and students make decisions about their Options:
This is the timetable for making decisions about Options in 2018: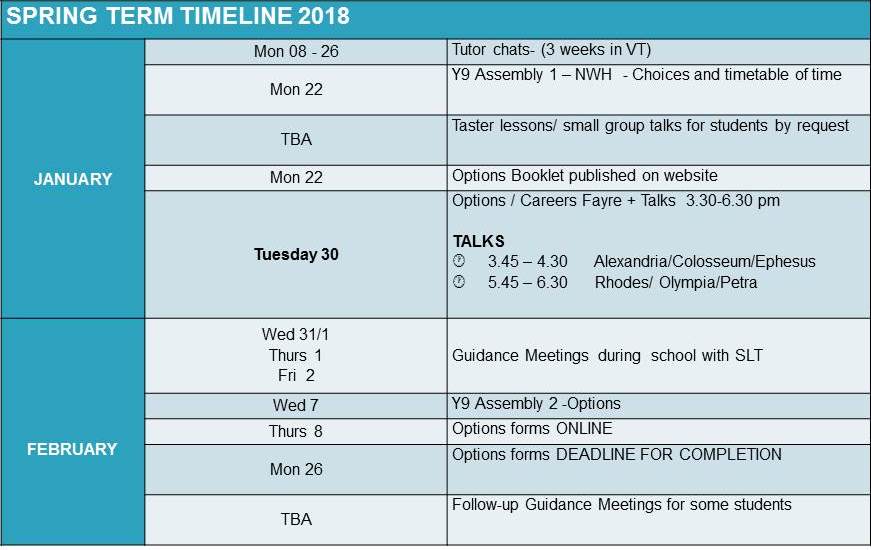 The 2017 Key Stage 4 Options Booklet gives students and parents/carers detailed information about Options.
This is the presentation for parents/carers, shown at January's Options Evening. It provides information about the Options process and how to choose subject areas etc.
Click this link for more information on Attainment 8.
You might like to see the list of qualifications that count for the English Baccalaureate here.
Information for Students
This presentation is to help students think about the choices they have.
We have also produced a guide about the subjects that are currently availble to you in Year 9.
These presentations, shown to students in October 2016, provide information about new subjects available to you in Year 10.
KS4 Subject Choices
This year we have achieved 100% of students receiving 4 out of their 6 preferences given earlier in the year. Columns have now been set and are fixed to allocate teachers and timetables. On Wednesday 7th June you will have the opportunity to attend a Deep Learning Conversation (DLC) where you can discuss the options given to you with your child's tutor. You will be also discussing progress and attendance please make sure you look at your child's Go4Schools page to familiarise yourself with the contents before the DLC.
There may be an opportunity to change the options given but, in the first instance, only options previously chosen will be considered. The table below outlines the set columns and the subjects within them. Shaded subjects are the areas that are full and cannot be added to. However too many moving out of a subject will mean that the subject could be collapsed and other students would be affected. If this happens changes in those subjects will not take place. Unfortunately the requests for Dance were too low this year to set up a viable course and therefore it is not running. This year's cohort is a particularly creative year and these subjects have been increased to allow for this. If there are any problems such as the omission of a language or humanities options please email Ms Allaway - kallaway@fortismere.org.uk.
| | | | |
| --- | --- | --- | --- |
| A | B | C | D |
| Sports Studies | PE | PE | Sociology |
| History | History | Sociology | Mandarin |
| Geography | Geography | Sociology | German |
| Geography | Geography | Spanish | Spanish |
| Business | Economics | French | Spanish |
| Product Design | Economics | History | French |
| Photography | Computing | Geography | French |
| Music | Media | Computing | History |
| Music Technology | Product Design | Media | History |
| Drama | Fashion and Textiles | Maths English Booster | Geography |
| Drama | Music | Photography | ICT |
| Art | Music Technology | Engineering | Food |
| Art | Art | Drama | Graphics |
_______________________________________________________________________________________
Important names
You may also wish to discuss Options with your child's Tutor or Head of College. For contact details, please go to our Contact Us page.