More celebrations on the Hill!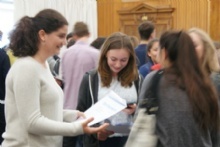 Another great year for GCSE results at Fortismere: 80% of students achieved at least 5 GCSE passes, including Maths and English; 55% achieved the prestigious EBACC qualification; and there was a 13% improvement for our most disadvantaged pupils.
Well done and thanks to all our students for working so hard, and for leaving such a positive mark on Fortismere!
This item currently has no content.