National Mandarin Competition Success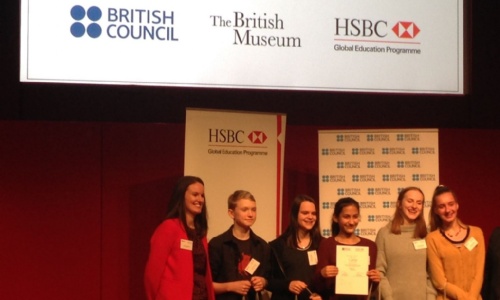 Many congratulations to our five students who recently came first in the HSBC/British Council National Mandarin Speaking Competition! They've won themselves a trip to China at Easter!
Following a number of heats across the country, 11 schools were selected to take part in the final of this prestigious competition, sponsored by HSBC. Taking place at the British Museum, and introduced by Nick Gibb MP, Minister of State for Education (who remembered us from the 2015 visit of Madam Peng), the competition involved the students in a variety of tasks. The grand finale was the 'Judge Bao' group performance, about Bao Zhen (999-1062), a famous judge from the Song Dynasty. Students presented a routine about him which included singing and martial art, and it won them the category!
The five students were: Hector Farr, Esme Whelan, Maya Sutton-Patel, Lulu Betteridge and Oryna Goichuk.
Speaking at the competition, Nick Gibb said: "Studying Mandarin Chinese is both personally enriching for students and a useful means of boosting future career prospects in our globally competitive economy."
It was a fantastic event the students were wonderful. Coming first was a huge achievement and we hope they enjoy their trip to China!