Bridge Builders Mentoring Programme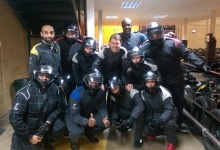 On 8th March, a group of Year 11 students taking part in the Bridge Builders Mentoring Programme attended a celebration day hosted by their mentors. The team started at the Mentors' Headquarters at Heathrow and ended with a great go-karting session. Our sincere thanks to the Mentors who organised such a fantastic experience.
Bridge Builders Mentoring Programme
The following Year 11 students, Ozgur Budakli, Kuane Cowdrey, George Georgiou, Harman Gill, The Heidensohn and Nathan Young have received additional support from their Mentors from the Bridge Builders mentoring Programme (see www.bridgebuilders.org.uk for more information) for the last two years, and were invited to a celebration day on Thursday 3rd March to signify the completion of the programme.
All students were invited to the Mentors Headquarters based at Heathrow to gain some work experience and develop an understanding of the working environment. The students were then thoroughly spoilt, firstly with a tour of the Enterprise executive range of cars, followed by a fine dining experience in a local restaurant finished with a fun-packed afternoon go-karting that gave everyone the opportunity to compete against one another.