History Trip to Berlin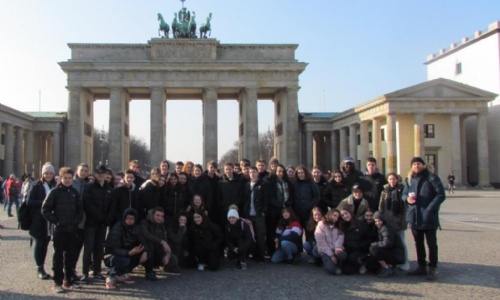 Year 10 and Year 11 History students spend a week in Berlin, learning about its unique place in world events.
The week before half term saw the History Department taking 55 Year 10 and 11 students to Berlin, a city that features heavily in our GCSE course. It was a fantastic chance for the students to deepen their understanding of Germany, the context of Europe in the 1920 and 1930s, the build-up to World War Two, and to learn about the city's turbulent history during the Cold War years.

The students benefitted from a series of excellent guides leading them around locations such as the Reichstag building, the Berlin Wall Memorial, the German Historical Museum, the Wansee Conference Centre, and Sachsenhausen concentration camp. Students also visited the Memorial to the Murdered Jews of Europe and the Topography of Terror museum, which gave them the opportunity to reflect on how the terrible crimes of Nazi Germany are represented and remembered today.

An additional highlight on the trip was a visit to Berlin's Thursday night market in the Mitte area of the city. This gave the students the chance to sample a variety of German and international food within a beautifully lit warehouse.

All of the teachers accompanying the trip felt that it was a resounding success, in large part due to the excellent behaviour and engagement by the students throughout the four days. As a group and as individuals, the students on the trip were a real credit to themselves and to the school. We hope that every student enjoyed the trip as much as we did.