Welcome to Fortismere School
Fortismere is a high achieving, dynamic, mixed foundation secondary school in the heart of vibrant Muswell Hill. We have a strong focus on outstanding progress and attainment for all of our students, as well as cultural enrichment. It is our vision that the school will win hearts and minds through adding value to its students and staff. Find out more about our vision here.
The school has a long history and was created out of the merger of several local schools over the past 140 years. We now have 1,270 students in Years 7 to 11 and a further 450 students in the Sixth Form. Find out more about our history here.
Within the school, we have six Colleges, each of which has ten Tutor Groups, made up of students from each year. These 'mini schools' provide a sense of identity and community, and each Head of College has responsibility for the management of pastoral care, the monitoring of student progress and the development of the College's ethos. Find out more about our Colleges here.
Our intention is to develop young people that are well-educated and capable of benefitting from and contributing to society when they leave school. We endeavour to provide a curriculum that will provide students with the skills, knowledge, experience and imaginative and understanding for a lifetime of learning and enjoyment, as well as an awareness and respect for moral values and the community. Find our more about our curriculum here.
Our staff team is led by the Headteacher, Mrs Helen Glass. You can find out more about her here.
Information about our Key Dates for this academic year (2016-17), including term dates, parents' evenings and late starts/early closures can be found here.
_____________________________________________________________________________________________________________________
COME AND SEE FORTISMERE's 'FIREWORKS ON THE FIELD'
THURSDAY 3rd NOVEMBER 2016
ENTRANCE: FORTISMERE SCHOOL, TWYFORD AVENUE, MUSWELL HILL
GATES OPEN: FROM 6-9PM
FIREWORKS: 7.30PM
Early bird tickets now available for the fantastic 'Fortismere Fireworks on the Field'. This year's fireworks promises to be better than ever with stunning fireworks designed and fired by Titanium Fireworks, world famous for their outstanding displays for the Mayor of London's New Year's Eve parties and Hogmanay at Edinburgh Castle.
But you don't need to go to Scotland as this fireworks event will be held on the Fortismere field with its amazing views across London. The fireworks start at around 7.30pm to allow time to enjoy the fireworks display at Coldfall primary school that can be watched just before these fireworks start. Two displays for the price of one.
It's child-friendly too with the Carters Steam Fair providing funfair rides and there's delicious hot food stalls, lashings of mulled wine and hot chocolate and a kid's sparkler den on offer too.
The organisers recommend wearing wet weather footwear as the field can get very muddy at this time of year and only some of the main walking areas have matting.
Early bird tickets are £5 from the school library or booked in advance online at www.fsaevents.moonfruit.com until Tuesday 2 November 2016 then tickets will be £7 on the gate with under 5s going free.
The event is organised and run by Fortismere School Association to raise funds for the school and build community links in the area. It is kindly sponsored by local estate agency Martyn Gerrard.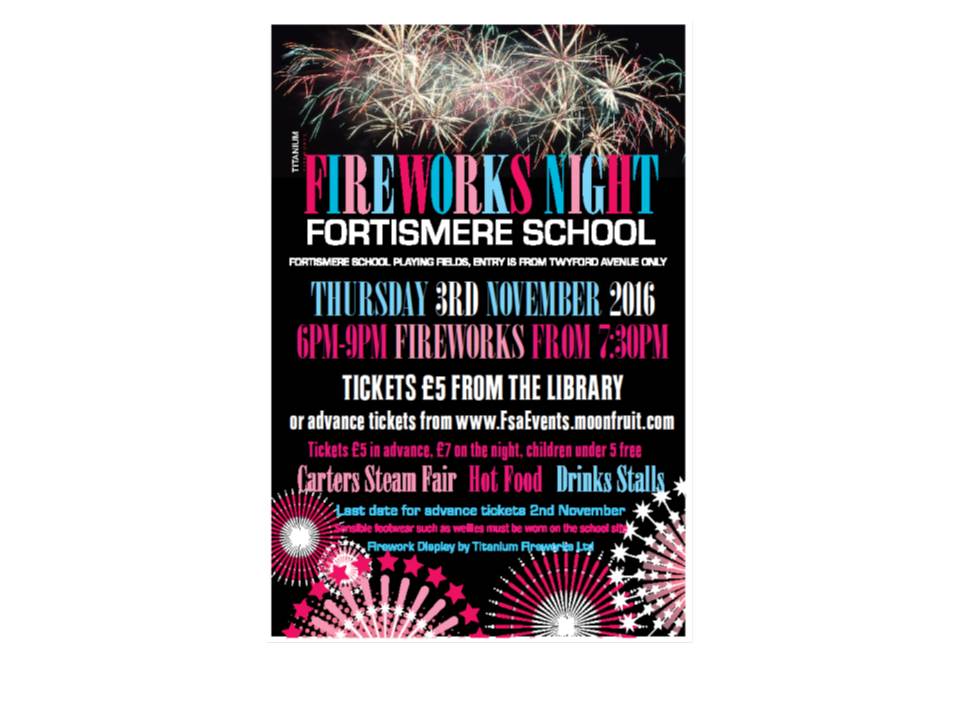 ____________________________________________________________________________________________________________________
**** OPEN DAYS FOR PROSPECTIVE STUDENTS ****
The Sixth Form Open Afternoon will take place on 10th November 2016. You can find out more here.